About Oatmeal and Stress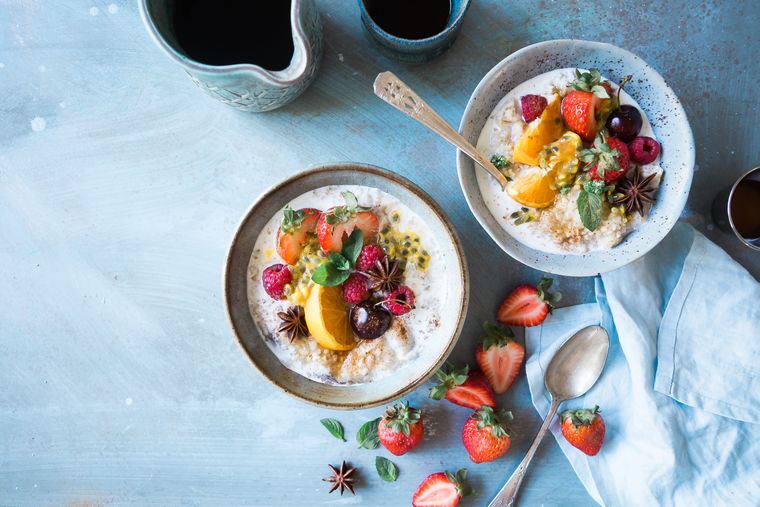 "Oatmeal is warm and comforting-and it also helps your brain generate the destressing neurotransmitter serotonin," says Albertson. Research in the Archives of Internal Medicineshows carb-eaters felt calmer than those who shunned carbs. The carb-avoiders reported feeling more stressed. Any carb won't do, however. Refined carbs (white bread and pasta) digest faster and spike blood sugar, messing with moods and stress. Complex carbs like oatmeal are digested more slowly and don't spike blood sugar.
Creamy Blueberry-Pecan Overnight Oatmeal Recipe (as in picture above):

In this no-cook overnight oatmeal recipe, just quickly reheat the oats in the morning and top with berries, maple syrup and pecans for an easy, on-the-go breakfast.
Ingredients for 1 serving:
½ cup old-fashioned rolled oats
½ cup water
Pinch of salt
½ cup blueberries, fresh or frozen, thawed
2 tablespoons nonfat plain Greek yogurt
1 tablespoon chopped pecans
2 teaspoons pure maple syrup*
*as a no sugar option choose Walden Farms walnut maple syrup that has 0 % sugar
Directions
Combine oats, water and salt in a jar or bowl. Cover and refrigerate overnight. In the morning, heat if desired, and top with blueberries, yogurt, pecans and syrup.
Tips:
People with celiac disease or gluten-sensitivity should use oats that are labeled "gluten-free," as oats are often cross-contaminated with wheat and barley.
Source: Eatingwell