​HOW TO COPE WITH 2020
By our trainer Agnese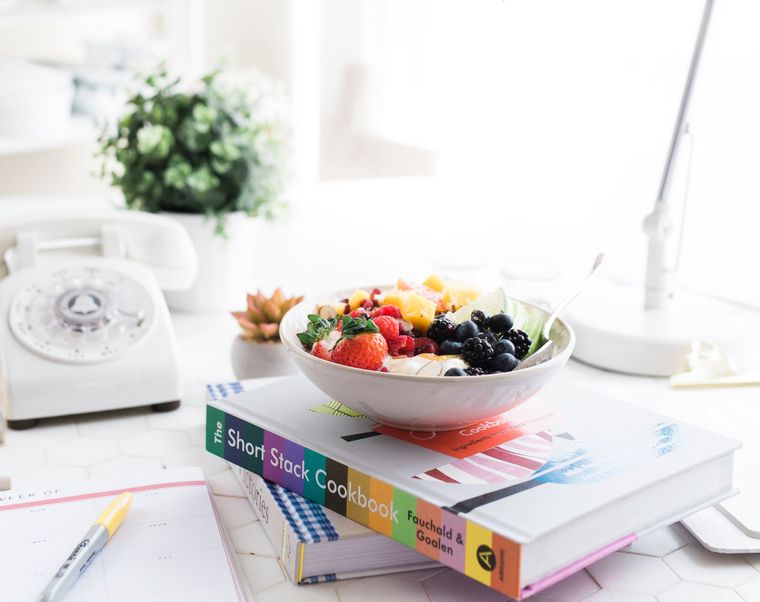 Hi beautiful people, We are now entering the 4thweek of self-isolation after hearing of an extension of quarantine. How nice! You might experience feeling of uncertainties, anger, fear, helpless, disappointment and so but remember you are not alone. We are in this fight together.
If you haven't already, the best thing to do is scheduling a routine and try to follow it regularly. A routine is the best strategy to manage this situation and cope with those oppressive feelings, including anxiety. Make sure you wake up every morning almost at the same time, don't keep on snoozing the alarm and make the effort to get out of bed. If you win the morning, you win the day.
For me, this is the hardest part of the day so for those who are like me…, I feel you! Open the curtains and the windows in your room or in the apartment and let some fresh air oxygenate your lungs and refresh your space. Take a moment here and mentally prepare for the day ahead (keeping an agenda also helps). Remember that by staying home you are contributing to defeat the virus and flattering the curve.
It is tough, we all know, whether you are in your home country or not. Before leaving the room, make your bed. Your space reflects your inside so keep it neat! Cleaning up will help you switching to the right mind-set. Not to mention the feeling of going to a made-up bed in the evening is unimaginable.
Time for breakfast, the best part of the day. Knowing I will soon have breakfast plays a big role in make me stepping out of bed. I usually prepare a nice bowl of oat with frozen fruit a banana and either a tea or orange juice. Get some vitamin C. Since you made your bed, for the same reason, you are now supposed to do the dishes.
Ready to rock the day? Based on what is on your agenda you should decide your outfit. I am not saying staying in pjs, watching series and eating in bed is a bad thing but putting yourself into a routine of nothing won't bring you any further and become super unhealthy. I work out in the morning but for those who has to study or other activity; pretend you go to the library, or where you used to better focus, and get dressed. For your information: jeans never lie but jumpsuits do.
If you prefer to work out in the morning, I suggest you organise a little circuit of 3 exercise for body part (upper-lower-core) 1 min per exercise for 3 sets.
Example:
| | | |
| --- | --- | --- |
| Upperbody | Lowerbody | Core |
| Push ups | Sumo squat | Crunch |
| Shoulder press | Lunges | Angle taps |
| Bend over row | Glutes bridge | Plank |
Whether you worked out or not, lunch is served! My advice is always the same, follow a schedule and always eat at the same time. It helps keeping track of the day.
Do not eat only when you feel hungry because you might think during this time you are not burning much calories. It is not true. Our body needs food in order to function properly, not eating or waiting for the starvation feeling before feeding is mistreating yourself and you don't deserve that!
Cooking is pure love. Most of the time the more amount of effort a receipt requires the more satisfying it. Take pizza for example. Pizza dough needs to be prepared in the morning and takes quite a few hours of commitment before you can taste it. Luckily, we have heaps of time now. I am sure at the end of this quarantine we can all compete for MasterChef, with healthy cuisine only of course.
Have you ever experienced "boredom hunger" in this period? If the answer is yes, keep on reading and we will master it together. If the answer is no, it means you spend too much time on social media or series.
Still cannot relate? Please, share your secrets with the community. As you might understood, I belong to the first category and what I do is simply eating every 3 hours, 3 meals and 2 snacks.
The first meal is breakfast at 9:30am. Around 12:30-1pm I have my lunch, at 4:30-5pm snack time and finally 7:30-8pm dinner. Because I train in the morning, I usually eat some extra fruit or some bread with peanut butter as a snack between breakfast and lunch too. The aim in doing so is to avoid boredom eating, starvation feelings or ending up cooking big meals for lunch and dinner that sometimes are difficult to digest. Moreover, eating so often keeps our metabolism high in burning calories throughout the day.
After lunch, I take some time to look up some news, and to be in touch with family and friends in my home country. You might find keeping up to date overwhelming, as news are often causing anxiety and may seems like a waste of time. Remember, it is not mandatory to watch the news every day! Find a way to clear your mind and to give your brain some free time to stay as mentally healthy as possible.
Game changer. For who study/work in the morning, the afternoon is the perfect time to move that body. It could be a nice idea to take a walk or go jogging alone in the sun and get lost in your own happy thoughts, listen to some quality music or simply enjoy the sounds of nature.
Otherwise, stay connected with at the USC through our Instagram account and YouTube channel for some cool live workouts with the fitness instructors you already know. Check the weekly schedule and get ready to sweat.
Some days the last workout is at 8pm, perfectly on time for a post workout dinner before the day is over. Congratulation, you survived another day in the Hunger Games!
One final thought before laying your head on the pillow and falling asleep. You are significant and important. Use this isolation time to reconnect with your inner you. Focus on what you want from yourself; revalue where you are and what you have become. Think where you want and what you need to do to become the best version of yourself. Allow yourself to be sad, to cry, and to eat that extra piece of chocolate because you deserve it.
I know home workouts are not the same as in the gym, but this does not mean you should train every single day to equalize the amount of intensity. Be kind to yourself. Keep a day or a whole weekend off and spoil yourself instead.
We are all in this together and together we will fight it out!